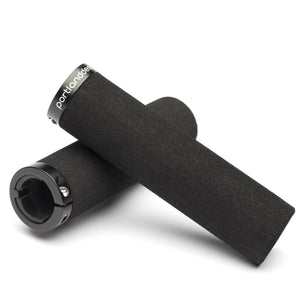 They're Lock-On Grips
Each piece of gear in our Essentials collection is a high-quality, essential bicycle accessory at a great value. 
They're Lock-On Grips are made from a lightweight durable foam that cushions your hands and provides solid grip. They have machined aluminum alloy lockrings that prevent rotation while you ride. 
DETAILS
Durable foam grips
Sturdy machined aluminum alloy lockrings
Weight: 79g (2.8 oz) per pair
Length: 130mm (5.1") each
Diameter: 33mm (1.3") 
Lifetime PDWarranty 
Black Lockrings Part Number: 807
Silver Lockrings Part Number: 808