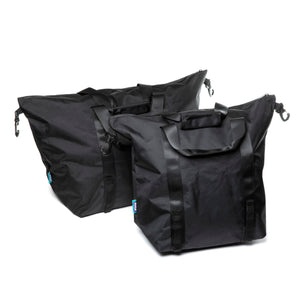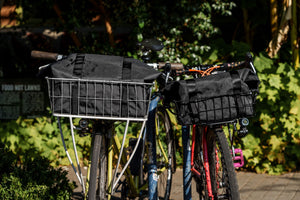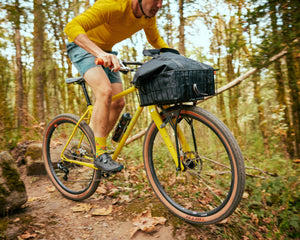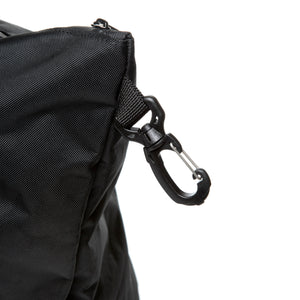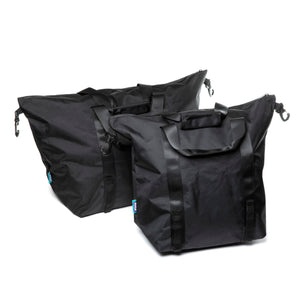 Loot Bag
Whether you travel light or need room for a little bit of everything, you can expand your front hauling capacity with the Loot Bag. Designed to fit perfectly into Wald™* 137 and 139 baskets, these water-resistant bags are made of 100% recycled EcoPak fabric.  They easily fold down and attach to your basket to ensure a safe riding experience around town. When it's time for a pit stop, useful carry handles and a detachable shoulder strap make the bags comfortable to carry, and the bright interior makes finding your gear easy. 
Available in medium (fits the Wald™* 137) and large (fits the Wald™* 139.) 
*Wald is a trademark of Wald, LLC.
Specifications
Ballistic EcoPak fabric, made from 100% recycled fibers

Water-resistant

Side clips attach to included shoulder strap or clip to basket for 

added stability during bumpy rides

Four hook-and-loop tabs secure bag to bottom of basket

Bright silver interior

Padded bottom

Medium Dimensions: 

 20cm width x 32cm length x 41cm height 

Medium Capacity: 25 liters

Medium Weight: 16 oz 

Medium Part Number: 631

Large Dimensions: 

27cm width x 39cm length x 41cm height 

Large Capacity: 40 liters

Large Weight: 22 oz 

Large Part Number: 632